STARWRAITH CLASS DESTROYER - 45 Points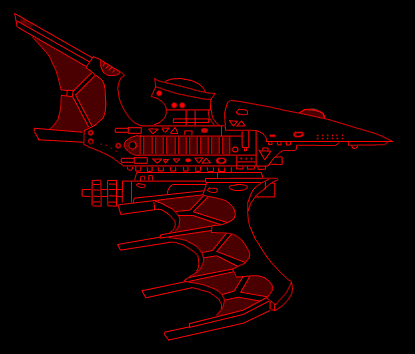 Compared with other races, the Eldar have much less diversity when it comes to the configurations of their starships. Most Eldar, particularly those of craftworlds, claim that they have a preference for simplicity of purpose when it comes to ship design. That is, one ship class for one strength (the Hellebore frigate being the exception to this rule). It is however, more likely that there is a lack of diversity in Eldar fleets due to the fact that few types of ships survived the Fall of the Eldar. This does not, however, prevent Eldar factions of various types from modifying existing classes to slightly different needs.
The Eldar of the Saim-Hann craftworld are specialists when it comes to ordnance. Their tenacity for high-velocity engines make them mechanical experts, which carries on to starship engines, attack craft, and missile systems. Saim-Hann propulsion experts designed a missile rack loading/launching system which could fire large numbers of projectiles in rapid succession. It was decided to mount this new system in a limited run of modified Nightshade destroyers. The result was the StarWraith: a small, fast, dedicated torpedo boat which could deliver more explosive ordnance to the enemy than any other Eldar escort.
As Saim-Hann is on relatively good terms with all other craftworlds, this technology has been well-shared amoung all craftworld Eldar. Because it uses a modified Nightshade hull, the design is relatively easy to produce using the small numbers pre-existing of Eldar docks and materials. The technology has not been shared with pirate bands.
| | |
| --- | --- |
| StarWraith Class Destroyer | 45 pts |

Type/Hits
Speed
Turns
Shields
Armour
Turrets
Escort/1
15/20/30
special
Holofields
4+
0
Armament:
Range/Speed
Firepower/Strength
Fire Arc
Prow Torpedoes
30 cm
3
Front
Notes: Like Hemlocks, StarWraiths have a deficit of crew to their size, due to the amount of space used by power generators and missile loading/launching systems. Subtract -1 from the ship's boarding value in any boarding actions.

In addition, you should choose a craftworld for your fleet to represent. Saim-Hann is unlikely to share this powerful technology with mere pirates. For example, you can pick one of the big five craftworlds: Ulthwé, Biel-Tan, Saim-Hann, Iyanden, or Alaitoc. Your fleet should be painted appropriately.
To make your own StarWraiths, simply use Nightshade models. To make them distinct, file off the prow weapons batteries before you assemble them.

Battlefleet Gothic, Warhammer 40K, Fanatic Games, and all other registered marks herementioned are property of Games Workshop Ltd. All Warhammer 40K universe characters, images, and related marks on this and all linked pages are the property of their respective owners. Blackstone Six fully supports the Intellectual Property Policy published by Games Workshop. This site and all affiliated materials are in no way, shape, or form associated with Games-Workshop Ltd. or any of it's affiliates. Blackstone Six is for non-commercial purposes only. Any misuse of copyrighted materials is purely accidental.

Site idea, layout, design, programming and original images are the property of Outpost 10F and it's affiliates. No part of this site may be duplicated or copied without the explicit permission of Outpost 10F and Blackstone Six. Blackstone Fortress image rendered by Commissar Sonata Form. All HTML layouts and javascripts © Blackstone Six. Site founded by Commissar Sonata Form and Lord Admiral Acoron in July of 2001.
© Outpost 10F (www.outpost10f.com) 1997 - 2001. All rights reserved.