CHAOS EXECUTRIX CLASS FLEET CARRIER - 400 Points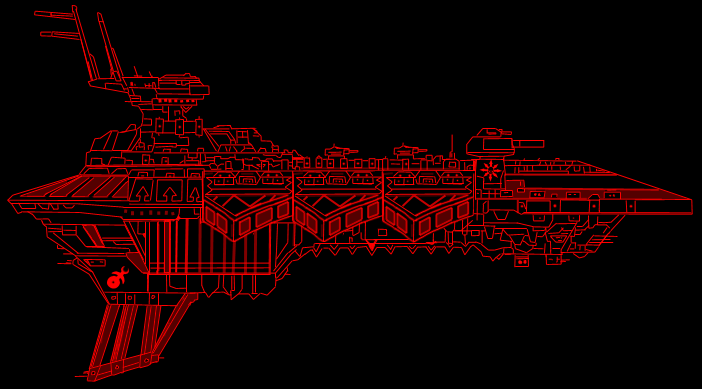 During his reign of terror in the far western quadrant of the Ultima Segmentus, Warmaster Brutus was unlucky enough to encounter one of the Battlefleet's newest additions: a Nemesis-class Fleet Carrier. The Bringer of Light, which had been transferred as an Emperor-class hulk from the Segmentus Obscuras, was refitted in Ultramar fleet yards to Fleet Carrier specifications. It was then sent out with a large supporting fleet to qwell the rampant piracy that had taken place in outlying systems, mostly thanks to the forces of Warmaster Brutus.
At the time Brutus encountered this Imperial task force, his raiding fleet was composed mostly of his non-attack craft capable vessels. As the Imperial fleet engaged, the Bringer of light sent wave after wave of fighter supported bombers and assault boats into the heart of the Chaos fleet. Brutus' fleet was badly routed, and only his Desolator Battleship and a handful of capital ships survived the engagement. The Warmaster was, understandably, infuriated. After venting his temper (at the cost of several of his senior officers' lives) Brutus turned his thoughts to revenge.
A recent prize of war had been the much-unfinished hull of a Despoiler Battleship. The near-hulk had been in orbit of a local Adeptus Mechanicus facility for several millenia, left to drift cold in space after the carrier-superiority project had been abandoned by the Segmentum Tempestus. Brutus recalled his forces and let them lick their wounds whilst he worked his ratings (sometimes literally) to death on the completion of his newest battleship. The final result rivaled even the Nemesis class in its ability to churn out attack craft. The Executrix, as it was dubbed by Brutus, has now been a constant threat to shipping and control in the Sementum Ultima's west rim.



| | |
| --- | --- |
| Executrix Class Fleet Carrier | 400 pts |

Type/Hits
Speed
Turns
Shields
Armour
Turrets
Battleship/12
20cm
45°
4
5+
4
Armament:
Range/Speed
Firepower/Strength
Fire Arc
Port Launch Bays
Swiftdeaths: 30 cm
Doomfires: 20 cm
Dreadclaws: 30 cm
7
7
6
Left
Starboard Launch Bays
Swiftdeaths: 30 cm
Doomfires: 20 cm
Dreadclaws: 30 cm
7
7
6
Right
Dorsal Lances
60 cm
3
Left/Front/Right
Notes: Like most battleships, the Executrix cannot be given Come to New Heading special orders.

The Executrix features a unique rack-based loading system for its attack craft. However, the bulkier and often less sturdy Dreadclaw Assault Boats used by the forces of Chaos are ill-equiped to traverse the racks at full speed. They therefore most be handled a bit more slowly and each side of this carrier may only launch 6 squadrons of Dreadclaws in any one turn. If the player chooses to launch assault boats then they may launch ONLY assault boats on the selected side. The extra point of strength may not be made up with attack craft.
See Ron's Executrix Conversion


Battlefleet Gothic, Warhammer 40K, Fanatic Games, and all other registered marks herementioned are property of Games Workshop Ltd. All Warhammer 40K universe characters, images, and related marks on this and all linked pages are the property of their respective owners. Blackstone Six fully supports the Intellectual Property Policy published by Games Workshop. This site and all affiliated materials are in no way, shape, or form associated with Games-Workshop Ltd. or any of it's affiliates. Blackstone Six is for non-commercial purposes only. Any misuse of copyrighted materials is purely accidental.

Site idea, layout, design, programming and original images are the property of Outpost 10F and it's affiliates. No part of this site may be duplicated or copied without the explicit permission of Outpost 10F and Blackstone Six. Blackstone Fortress image rendered by Commissar Sonata Form. All HTML layouts and javascripts © Blackstone Six. Site founded by Commissar Sonata Form and Lord Admiral Acoron in July of 2001.
© Outpost 10F (www.outpost10f.com) 1997 - 2001. All rights reserved.